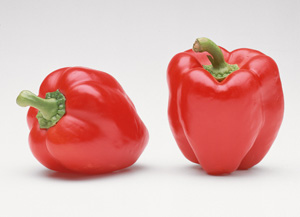 Ingredients:
1 cup quinoa
1-1/2 cups water
6 large green peppers
1/2 can (14-ounces)Vegetable Broth
2 tablespoons oil or butter
1 medium sweet onion, diced
Green pepper tops, finely chopped
4 ounces fresh mushrooms, chopped
1 can (28 ounces) diced tomatoes
2 garlic cloves, minced
1 jar (12 ounces) salsa
8 ounces Mexican blend cheese, shredded
2 ounces sharp cheddar cheese, shredded
Instructions:
Preheat oven to 325° F. Bring quinoa and water to a boil in medium saucepan, turn down to low, cover and let simmer for 8 to 10 minutes; then lightly fluff with a fork. The quinoa should be a bit undercooked; it will finish cooking in the peppers.
Meanwhile, clean peppers, cutting off and saving tops. Arrange the green peppers in a deep casserole dish and pour the vegetable broth into the bottom of the casserole. Cover and put in oven to steam peppers slightly before filling, about 10 to 15 minutes. Do this while preparing the filling.
Chop green pepper tops into fine pieces. In large skillet over medium-high heat, add oil, onion, chopped green pepper tops and mushrooms. Cook until green peppers are soft and onions are transparent. Add diced tomatoes and garlic. Stir and heat through. Add salsa and turn heat down to simmer, and let cook, uncovered, for 10 minutes. Remove from heat and fold the quinoa into the tomato mixture in skillet. Be careful not to stir too much, as it will break down the quinoa.
Add the Mexican blend cheese to the mixture and toss gently again. Remove peppers from oven and stuff with the filling. Top each pepper with cheddar cheese and return to the oven, uncovered, and bake for 35 to 45 minutes, or until peppers are soft and cheese on top is melted and starting to brown.
Source: www.hillbillyhousewife.com.
Reprinted from AzNetNews, Volume 30, Number 2, April/May 2011.