by Dr. Adrienne Stewart — 
All hormones in the body are designed to work together in a type of hormonal symphony. One off-pitch member affects the entire orchestra, and the other members have to try to compensate.
During the holiday season, we are surrounded by the comfort and cheer of our family traditions. Many women might not know, however, that these very traditions could be triggering an increase in hot flashes.
Hormones can affect our overall well-being. Throughout different times of our lives, hormone cycles can fluctuate. It is important that we support the body and consider the interconnectedness and relationships of all of our hormones. All hormones in the body are designed to work together in a type of hormonal symphony. One off-pitch member affects the entire orchestra, and the other members have to try to compensate.
Below are three common culprits that can cause hot flashes and some ways to avoid them this holiday season.
Sweating over sweets — Sweets like holiday cookies, candy canes and gingerbread houses may be holiday treats, but they can also spike your blood sugar. This dramatic fluctuation in blood sugar can affect hormone levels, which trigger the tell-tale heat of a hot flash.
To combat this common culprit, try swapping sweets with healthy alternatives. If you do feel the need to indulge, try saving the sweets as a treat after a meal filled with lean protein and fiber. This will slow the absorption of the sugar, keeping your blood glucose from spiking. In a pinch, try combining the sweet with a protein, such as lean turkey or some nut butter.
The flush of wine — A holiday toast is a wonderful tradition; however, be careful of consuming too much alcohol. The sugars in wine and other alcoholic beverages can spike your blood sugar, just like eating a holiday cookie. In addition, the alcohol puts an extra strain on your liver, which in turn affects the way your hormones are processed. Party punch spiked with alcohol is especially dangerous for triggering a hot flash.
To combat this common culprit, try limiting alcohol to a few sips. Drink it with a meal rich in fiber, essential fatty acids and lean proteins to keep blood sugar stable. The best alternative is to reach for water. This will help hydrate you during the dry winter months and keep your skin glowing.
A glass of green tea is another great option because it has L-theanine, which can be relaxing and balance out the caffeine. If you still miss the wine, try sipping on pomegranate, tart cherry or 100 percent cranberry juice in a nice holiday wine glass.
The strain of stress — Although the holidays are about family and memories, they also can be an incredibly stressful time. From baking to shopping to extra obligations, it is no wonder our stress levels rise this time of year. Unfortunately, too much stress affects almost every body system in a negative way. Hormone levels can become unbalanced, as our adrenal glands work overtime to try and compensate. Plus, the extra cortisol released from the adrenal glands can lead to weight gain directly around the abdomen.
To combat this common culprit, try implementing some coping strategies for holiday stress. Make sure not to overcommit or agree to too many extra obligations. Even though coffee and all the holiday caffeinated drinks may give you a short-term boost, they can trigger hot flashes and affect restorative sleep.
Support your body with extra sleep and exercise. Mindful practices such as meditation and yoga can also help. And remember, you do not have to do everything. It is OK to say no, or to ask for help.
When in doubt, ask for help. If hot flashes become too troublesome, be sure to ask your naturopathic doctor or health care provider about other alternatives. All the possible effects of hormonal imbalance can be overwhelming and confusing.
The great news is that we are here to help. Naturopathic doctors have many treatment options that include trigger avoidance, specific lifestyle recommendations, targeted nutrients, herbal/botanical support, and delivery and dosage options for bioidentical hormone replacement — including creams, capsules, injections and pellets.
One size does not fit all with regard to hormones, so it is important to customize and personalize to your individual needs.
The following recipe for holiday muffins is a great way to start the day. The cinnamon, essential fatty acids from the nuts and flax seeds, and the fiber from the applesauce and whole grains help keep your blood sugar and hormone levels balanced, without sacrificing flavor and fun.
Healthy Holiday Muffins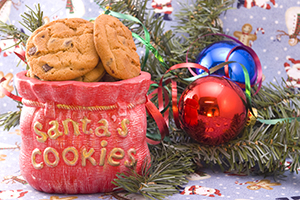 Ingredients:
1/4 cup organic oil (canola, sunflower seed)
1-1/4 cups organic applesauce
1-1/2 cups whole-wheat or gluten-free pastry flour
2 tablespoons fresh ground flaxseed
1/2 teaspoon baking soda
1 teaspoon non-aluminum baking powder
1 teaspoon cinnamon
1 pinch salt
1/2 cup chopped walnuts
Directions:
Preheat oven to 375° F. Lightly coat a 12-cup muffin tin with cooking spray or paper liners. Combine oil and applesauce. In a separate bowl, sift together the flour, ground flaxseed, baking soda and baking powder, cinnamon, salt and walnuts. Stir wet and dry ingredients together until just combined. Use a large spoon to drop the muffin batter into the muffin tins. Bake 18 to 20 minutes and enjoy.
Dr. Adrienne Stewart is a naturopathic physician practicing at Integrative Health in Scottsdale, Ariz. She focuses on women's health and environmental medicine. myintegrativehealth.com or 480-657-0003.
Reprinted from AzNetNews, Volume 32, Number 6, December 2013/January 2014.