Yoga Therapy™ for Overcoming Insomnia
by Peter Van Houten, N.D. & Gyandev Rich McCord, Ph.D. —
Yoga Therapy, a revolutionary new approach to working with some of the most common physical and mental ailments, combines yoga postures with conventional and alternative medical treatments to present a fresh, effective approach to healing.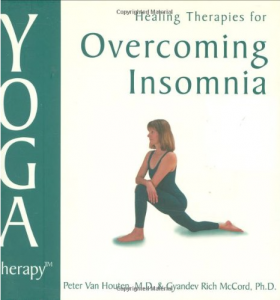 The book discusses types, causes and treatments of insomnia, and ways to create good sleep habits.
It contains extensive information on how to use yoga postures as an aid in healing, gentle stretching, affirmations and breathing exercises, useful conventional and alternative treatments to supplement your practice, plus a variety of additional tips, techniques and tools.
This therapy is easy-to-use, succinct and requires no prior knowledge or practice of yoga.
$14 hardcover — Crystal Clarity Publishers, 14618 Tyler Foote Road, Nevada City, CA 95959.
Reprinted from AzNetNews, Volume 24, Number 2, April/May 2005.